Abraham Lincoln Art Gallery. Com

Lincoln Store

Framed Color Lincoln Print

The original photograph was taken on February 5th 1865 by Alexander Gardner. In 2006 artist James Nance meticulously hand colored the photograph. The resulting image is a unique work of art which retains the quality of the Gardner Print and brings President Lincoln to life through the subtle use of color. The image size is 11.5 by 13.5 inches and is reproduced utilizing the expensive Giclee printing process on a high quality, archival, textured watercolor art paper. The framing uses archival acid free double matting and a beautiful walnut wood frame with an engraved plaque. The print is protected by a heavy conservation glass. Each print is signed and numbered by the artist. This framed print makes an excellent gift and will complement any home or office. Be sure to read the article at the bottom of this page on the day Lincoln sat for this photographic portrait.
Welcome to the
Abraham Lincoln Art Gallery
American Presidential Original Art, Sculpture, Prints and more.
Abraham Lincoln Limited Edition Original Art
by Sculptor James J. Nance
Made In America
Framed Lincoln Color Print
For more detailed information on each of our products click the buttons below
The original photograph was taken on February 5th 1865 by Alexander Gardner. In 2006 artist James Nance
meticulously colored the photograph. This effort represents hundreds of hours of inspired and careful work during
2006 until the final product was achieved. The resulting image is a unique work of art which retains the quality of the
Gardner Print and brings President Lincoln to life through the subtle use of color. The image size is 11.5 by 13.5 inches
A larger photograph of the print is located lower on this page.
"President Abraham Lincoln "

This Limited Edition Color Print is offered in three versions. Framed and matted, matted, and print only.

Limited Edition of 1,000

---

Framed and Matted Print

Buy Now: $1,250 single payment plus shipping FedEx ground

Matted Giclee Fine Art Print - Image Size 11.5 in Wide by 13.5 in tall

Heavy Stock Fine Art "Somerset Velvet" Watercolor Paper

Walnut Frame Outside Size 20 inch by 23 inch

Archive Museum Quality Acid Free Double Matte with Weave Pattern

Conservation Glass

Acid Free Rear Foam Board

Mounted Brass Engraved Name Plate

Certificate of Authenticity and Limited Edition.

Buy Now: $1,250 single payment plus shipping FedEx ground

---
Abraham Lincoln
Framed Lincoln Color Print
Photograph Alexander Gardner February 5th 1865
Color James Nance 2006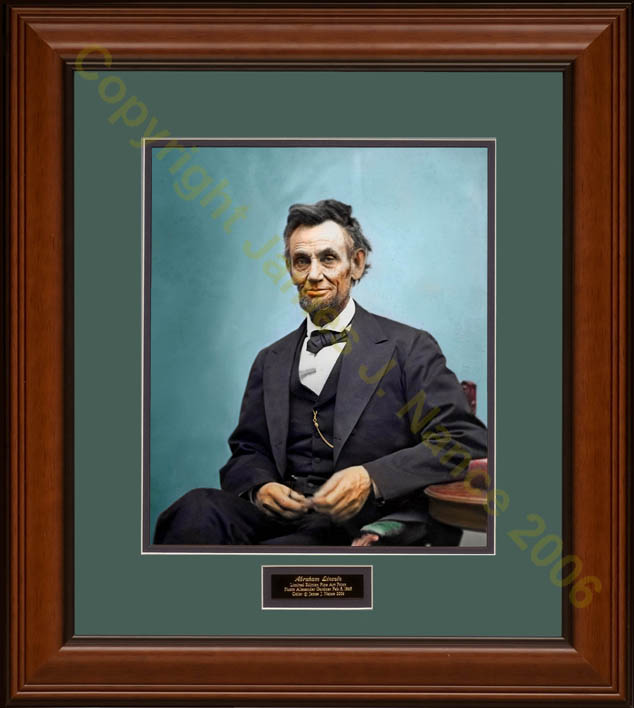 Photographs by Mel Schockner, Loveland Colorado
Abraham Lincoln portrait, Lincoln Portrait, Color Lincoln portrait, Color Lincoln photograph, Lincoln print, Alexander Gardner, Abraham Lincoln portrait, Lincoln Portrait, Color Lincoln portrait, Color Lincoln photograph, Lincoln print, Alexander Gardner, Abraham Lincoln portrait, Lincoln Portrait, Color Lincoln portrait, Color Lincoln photograph, Lincoln print, Alexander Gardner, Abraham Lincoln portrait, Lincoln Portrait, Color Lincoln portrait, Color Lincoln photograph, Lincoln print, Alexander Gardner, Abraham Lincoln portrait, Lincoln Portrait, Color Lincoln portrait, Color Lincoln photograph, Lincoln print,
Photographic Portrait by Alexander Gardner
February 5th 1865
Library of Congress.
Colorized in 2006 by James J Nance
Derivative Copyright 2006 James J. Nance
When this portrait photograph was taken, photography was only a few decades old; and it would be another 65 years before color photography was invented. Colorizing an historic photograph is a delicate task and artist James Nance overriding goal was to create a work that was sensitive and true to the original. For the background, colors were chosen to evoke the period. Editing was kept to a minimum while maintaining the mottled appearance of the background. Lincoln's face was the greatest challenge with color choices that are slightly aged, subdued, and weatherworn. Only areas which were tinted with tones of gray in the original were colored; white areas from the over exposure of the flash powder were left white. The result is a work that brings President Lincoln to life while retaining an antique spirit and charm.
Edition Size
1,000 limited edition prints, signed and numbered by artist.
Dimensions
Print Image Size - 11.5 inches wide by 13.5 inches high.
Paper Size - 13.5 inches by 15.5 inches, counting one inch border
Outside Matt size 16 in by 20 inch.
Outside Frame Width - 20.5 inches wide by 23 inches high
Mattes
Acid free archival quality heavy stock
Outer Matt - 2.25 inches wide, blue green, white core with a fine weave to complement the background of the photograph
Inner matt - 1/4 inch reveal, charcoal blue black core velvet texture to complement Lincoln's suit.
These are special order museum mattes which are unavailable in retail frame shops.
These mattes were carefully selected by the artist for maximum effect and to enhance and complement the colors of the print.
Engraved plaque
Gold Lettering on Black which reads:
Abraham Lincoln
Limited Edition Fine Art Print
Photo by Alexander Gardner Feb 5th 1865
Color Copyright James J. Nance
Print paper
Printed on a heavy, fine art, archive quality, lightly textured watercolor paper
(Somerset Velvet Acid Free Paper)
Satin Finish
This is the same high quality paper used in most artist limited edition painting prints.
Printing Technique
Printed with the superior Giclee printing process.
(Giclee, French noun pronounced "Zee Clay" meaning to spray or squirt. )
The Giclee printing process represents the highest technology available today and creates a museum quality print which is indistinguishable from the
original work of art. Unlike standard digital printing process, Giclee printing does not utilize small dots of pigment, which can create a grainy effect. A Giclee print utilizes highly accurate computer controlled jets to apply ink to various media from canvas to photographic paper. These jets vary the width of the ink stream to as small as 1/100 the width of a human hair yielding a photo perfect product with higher resolution than offset printing and a superior dynamic color range than serigraphy. A Giclee print is more expensive than other forms of photographic and digital printing techniques and if used on a archival paper will create a beautiful, archive quality print totally faithful to the original work. Most artist limited edition prints today are created with the Giclee process.
---
Dear Jim,

I think that you are aware that I am a great devotee of our 16th President. The photo which you have brought to living color is a personal favorite. I was not expecting anything like what my brother-in-law gave me for Christmas. The combination of Jeffís tremendous thoughtfulness and your remarkable artistry made this one of the very best Christmas gifts I have ever received at any age. When I was first opening the package I could see that it was a color painting of Lincoln and frankly I was anticipating something flat or overdone. But when I opened it up, it truly took my breath away. What you have done is so faithful to the original, while bringing out what was undoubtedly the color of the real setting. It took me several minutes to figure out that it had even been painted. Iíve never seen anything like it. What a gift you have and I received!

Best, M.H.
---
Jim, I wanted to let you know I received the colorized photograph of Lincoln in good condition, and also want you to know how very pleased I am with it. As stunning as it looked on your website, it just didnít do full justice to the actual print. When I took it to my long-time framer, and he unwrapped it, he took a step backward, stunned at how life-like it was. Then several more customers walked up to have a look and asked where I got it. Perhaps youíll get some inquiries as a result. It was great to speak with you at the time I ordered, and Iíll continue to monitor your website. G.S.
---
Dear Mr. Nance, Thank you so much for the color Lincoln print. It is absolutely wonderful and truly brings Mr. Lincoln to life. If color photography had been around since Lincoln's time, I think this is what it would look like. I also love the frame and matte. Your color choices are impeccable and beautifully complement the print. I have it hung above my desk and every one who enters my office comments on it. Thank you. P.J.
---
Hi Jim. Just a note to say the beautiful portrait arrived today and now hangs in our living room. It is truly beautiful, and I sure do appreciate your kind words on the back. My wife and I are truly astonished at how stunning it looks. We live in a small, relatively bland house, but this really positively changes the entire look of the living room. What an eye-catching addition!! Best, Roger Norton, Abraham Lincoln Research Site
---
Lincolnís Last Portrait.
By James J. Nance
On a cold bleak Sunday morning on February 5th, 1865 Abraham Lincoln, accompanied by his young son Tad, paid a short visit to the Washington DC photography studio of Alexander Gardner.
Many scholars and Lincoln admirers consider the photographs taken on this day to be the best and most revealing portraits in his life; they were also sadly the last.
When Abraham Lincoln was elected our sixteenth president, photography was scarcely 30 years old.
It is not surprising that when he grew his beard and took the office of president that this new medium fueled a firestorm of interest in his rugged, chiseled, backwoods image; the demand from artists, editors, cartoonists, and the public was insatiable. Lincoln himself surely understood the power of photography and the power of his humble image, so he encouraged this enthusiasm by making himself available when ever possible to artists and photographers. Sometimes his generosity would backfire; on more than one occasion he was required to duck out a back door from an engagement to avoid the frenzied mass of photographers and artists, all begging for a sitting.
As a counterpoint to the public fascination with his face, Lincoln would use his typically self-effacing humor.
Once, when participating in a political debate with Steven Douglas for the Senate, his opponent accused him of being two faced.

Lincolnís laconic reply, ďI leave it to my audience, if I had another face do you think I would wear this one?Ē His straight-faced answer cleverly avoided the issue, brought the crowd to its knees in laughter, and totally disarmed his amused opponent. On another occasion after his election to the White House, someone reported to him that his Secretary of War, Edwin Stanton, had called Lincoln a Baboon.

When asked how he would handle this insult Lincoln replied, ďInsult? That is no insult. It is an expression of opinion. And what troubles me most about it is the fact that Stanton said it, and Stanton is usually right.Ē
The Gardner photograph session On February 5th took slightly over an hour from the presidentís demanding schedule and consisted of five poses. The first showed a serious looking Tad leaning on a table, beside his amused seated father. All the other poses showed Lincoln sitting in a comfortable Queen Anne style padded chair with minor variations.
Of the seated poses, the first had Lincoln with his hands on his legs, the second with his hands grasping the chair arms, and the third with his hands together in his lap holding a pencil and his reading glasses. This third pose, known today to Lincoln scholars as O-116, is the most revered of all Lincoln photos.
During this session, Gardner was using a new lens and camera system called a multiple lens, which would take two photographs simultaneously to create a stereoscopic image for the viewer.
The new lens also improved the photographic depth of field.

In previous photographs, the depth of field was so narrow that if the nose was in focus, the ear was out of focus.

This drawback was eliminated in Gardnerís new lens, which created a clear and sharp image, which brought Lincoln into an intimate closeness never before achieved.
The photographs from this last session, particularity O-116, are powerful, emotional, and evocative. Four years prior, when Lincoln entered office at the beginning of the Civil War, he was robust and hardy; but, when he visited Gardnerís studio on February 5th 1865, he looked frail and exhausted from the horrors of war.
Two million American causalities and the demands of office had taken its toll causing Lincoln to lose 25 pounds from his already sparse frame.

Newspaper publisher and friend Horace Greeley would comment on the photograph O-116, ďHis face was haggard with care and samed with thought and trouble. It looked care-ploughed, tempest- tossed, and weather-beaten.Ē Another of Lincolnís friends, Noah Brooks, saw another side and said of the photograph, ďA man whose honesty and purpose is transparent.Ē
Another reason that O-116 is a favorite is that Lincolnís hands are fidgeting with his pencil and reading glasses causing them to be blurred in the photograph.
Photographs of this era required many seconds of exposure and the subject was required to hold his breath and remain motionless for the duration. Obviously Lincoln was unable to contain his hands. This small detail adds charm and humanity to the portrait. What were his thoughts?
However, despite Lincolnís obvious exhaustion, the tide of battle had recently turned to the Unionís favor, and Lincoln knew that the end was close. In fact, the war would end two months later on April 9th and Lincoln must have been considering what would come next for his second term. In the photograph he seems to gaze into the far distance in deep thought with a weary smile. One need only look into his face to see the gentleness of spirit, his humor, and pondering of thought.
Since Lincolnís second inaugural was only a month away, his inaugural address would surely reveal his state of mind on this day; not of victory but of reconciliation.ď
Before this session ended, Gardner asked the president for one last pose.
He moved his camera closer and took a photograph of Lincolnís head, shoulders, and chest.

Mysteriously the glass plate negative cracked. Gardner carefully took it to his dark room and was able to make one print, with an ominous crack across Lincolnís face, before it broke completely and was discarded.

This print, known as O-118, still exists to this day. Over the years many people have associated this crack with a symbolic foretelling of the assassinís bullet that awaited Lincoln 10 weeks later.
Epilogue:
Final images
A few days later, after the Gardner session, Lincoln consented to sculptor Clark Millsí request to make a life cast of the presidentís face.

This was the second Lincoln mask made; the first mask was made 5 years earlier in 1860 by sculptor Leonard Volk.

Comparison of the two masks reveals a change in Lincoln so severe and stark that many people mistakenly think the second Millsí mask was taken in death.
The final Lincoln photographs were taken during his inauguration in early March 1865. In addition to a number of photographs of candid crowd scenes containing the president taken on March 4th, there were three notable photographs taken by Henry F. Warren on March 6th on the balcony of the White House. President Lincoln granted Mr. Warren's request for a brief impromptu photo session on the White House balcony. Lincoln carried a chair out himself. Perhaps Lincoln believed that some photographic record of his inaugural was in order and Mr. Warren was at the right place at the right time. The first photo was a standing shot, which is noted in Warren's papers, although the negative and print have never been seen. The remaining two were quick photographs of the chest and head of a seated Lincoln. Both of these photographs, O-112 and O-113, the last taken of Lincoln when alive, show him looking haunted and even more emaciated and haggard than during his last portrait O-116 from the session a month before on February 5th. Much of his visible exhaustion was surely due to the hectic activities surrounding his inaugural. However his more advanced weight loss and deteriorating physical condition is evident. The war was still not over and the final details must have weighed heavily on Lincoln. Although these two Warren photos were posed, they could hardly be called a formal portrait. They are fascinating because of their spontaneity and how well they reveal the tension of the moment. They are also very sad images and are not the way most people wish to remember Abraham Lincoln.
For admirers of Abraham Lincoln, the formal portrait, photograph O-116, taken on February 5th 1865 by Alexander Gardner is the quintessential image of an embattled but determined president.

This presidentís kindness, resolve, gentleness, vision, and strength reach out from this photograph after 143 years and still connect with us on a personal level.

For many Lincoln admirers O-116 is a favorite image.
Credit.
Much of the factual information in this story was referenced from the book ďLincoln in PhotographsĒ by Lloyd Ostendorf and Charles Hamilton. ISBN 089029-087-3. Copyright 1985, Morningside House, Inc, 260 Oak Street, Dayton Ohio 45410. The numbering system most frequently used today for Lincoln photographs was developed by the late Lloyd Ostendorf. O-116 stands for Ostendorf catalog #116 and the 116th photograph taken of Lincoln. This is a wonderful reference book and an essential addition to any collector's library.
Copyright 2008 James J. Nance