President Abraham Lincoln "Immortal Conscience"
Scarcely five years passed from Lincoln's triumphant Cooper Union address to the end of the Civil War on April 9, 1865. Those five years produced profound changes in our nation and equally profound changes in the face of Abraham Lincoln.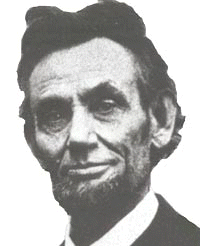 The Civil War began just one month after Lincoln's inauguration and lasted four years. In its wake, hundreds of thousands of Americans lay dead and wounded. The nation, ripped apart, had been brought back together, but at a terrible cost.
In creating the second half of my portrait, "Immortal Conscience," I decided to portray President Lincoln as I believe he would have appeared the day before his assassination, April 14th, 1865. The war has ended; he feels deep remorse for the nation's sacrifice, yet is comforted in the knowledge that the Union has been preserved and slavery abolished. Mr. Lincoln projects a calm confidence that the future will "bind up the nation's wounds."
My favorite photograph from this period, and the one that provided me with the most inspiration, was taken by Alexander Gardner on Sunday, February 5th 1865, two months before Lincoln's death. The photograph shows a tired president, physically frail and ravaged by the responsibilities and pressures of the war. This Lincoln has lost twenty-five pounds from his already sparse frame. He suffers from poor health; his sunken eyes gaze into the remote distance, seemingly aware of his impending fate and knowing that his life's greatest challenge is almost complete. To study his face is to study the tragedies of war and the transcendence of spirit.
Although physically frail and visibly tired, President Lincoln possesses an inner strength which comes from his "Immortal Conscience"- the unshakable conviction that "These dead shall not have died in vain; that this nation shall have a new birth of freedom, and that this government of the people, by the people, and for the people, shall not perish from the earth."